Remarkable Meeting of Guideline Minds
March 13, 2018
Posted in: Inside Story, Public Health in Action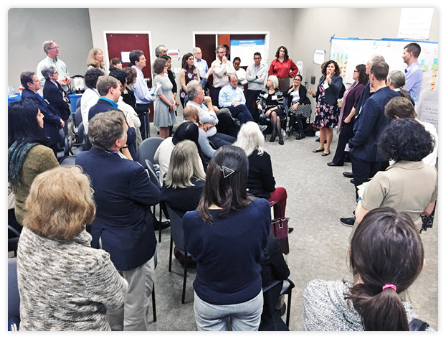 What happens when you bring together a diverse base of over 200 stakeholders representing over 40 institutions that includes science experts, informaticians, health IT standards experts, clinicians, software engineers, communicators, and program evaluators from both inside and outside CDC to explore ways to help clinicians and patients adhere to clinical guidelines? Connection, collaboration, and understanding that couldn't have happened any other way.
Calling All Guideline Stakeholders
That was one takeaway from the Adapting Clinical Guidelines for the Digital Age Meeting, a successful week-long gathering that brought together a broad cross-section of people who work with guidelines on every point of the spectrum, from creation to use. The meeting was to further the work of the Adapting Clinical Guidelines for the Digital Age initiative, a CDC priority dedicated to finding ways to address critical challenges to guideline uptake.
"It's about making it easy for clinicians and patients to do the right thing: follow evidence-based recommendations," says Maria Michaels, MBA, Office of Public Health Scientific Services (OPHSS), who co-chaired the Adapting Clinical Guidelines event. "We are investigating how to apply guidelines in patient care more easily, quickly, accurately, and consistently."
Guided by CDC's agency-wide Clinical Decision Support Workgroup, experts representing nearly every CDC center, institute, and office (CIO) came together in person and virtually with key external partners for four and a half days to share their knowledge and personal experiences. While science was front and center, it was a technique called Kaizen that would help the many different perspectives coordinate between focus areas called value streams. The goal: improving creation, informatics, communications, implementation, and evaluation of guidelines in an ideal state.
The meeting and the initiative behind it have garnered attention and support from senior leaders at CDC, including Chesley Richards, MD, MPH, FACP, deputy director for Public Health Scientific Services and director, Office of Public Health Scientific Services; Rear Admiral Michael Iademarco, MD, MPH, director, Center for Surveillance, Epidemiology, and Laboratory Services; Joanne Cono, MD, ScM, director, Office of Science Quality (OSQ); Vilma Carande-Kulis, MS, PhD, lead, Guidelines and Recommendations Activity, OSQ; and Dana Meaney Delman, MD, MPH, senior medical advisor, National Center for Emerging Zoonotic Infectious Diseases who attended the meeting throughout the week.
In both his welcoming address and closing comments, Richards admitted he had doubts that the meeting was even possible, let alone that it would be such a resounding success. "Over this week, we've made enormous progress, and that's because we've got a very important topic and you're all mission-oriented. You know that if we can take even a small part of what we've done here and help it make an impact, we're going to impact people's lives."
This Inside Story by Dana Pitts
CDC Connects Story Manager: Theresa Roebuck
CDC Connects welcomes: