Early and Middle Stages: Verbal Skills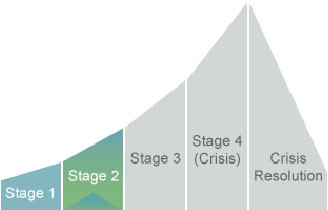 Your words and demeanor have the power to defuse tensions, so be attuned to your tone of voice, choice of words, and body language. Basic guidance includes:
Allow the person to express concern.
"Please tell me what's bothering you."
Use a shared problem solving approach.
"How can we correct this problem?" Learn more …

Empathic support includes our capacity to envision the perspective of the "other person" in painful or conflicted situations—in this case, an upset or threatening patient or coworker.

"Ms. Wallace, I can see that you're very angry … can we talk about what's troubling you?"
"Mr. Brown, I know you've had a tough time here since your surgery, but I want to do whatever we can to help you."

"I understand how frustrating this must be for you."
Avoid being defensive or contradictory.
This only exacerbates a tense situation.
Apologize if appropriate.
"I'm sorry this happened. Let's find a way to fix it."
Follow through with their problem.
"I'm going to bring this to my supervisor immediately."
Avoid blaming others or "It's not my job."
"Let me get someone who can help you with this problem."
Be alert to early signs of a patient's rising anxiety; perhaps offer an empathic inquiry such as, "You seem to be upset … can you tell me what's troubling you?"