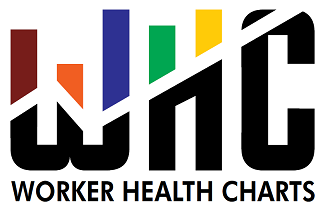 Who Can Use Worker Health Charts
Worker Health Charts was created for many types of users, all with a main purpose in mind – "How can people better use worker health data to understand what's happening in their workplace?"
How Different People Can Use Worker Health Charts
We each have a different reason for why we seek information on a topic. Below, we describe how three different groups of people may use Worker Health Charts.
Researchers and Public Health Professionals
Researchers and public health professionals may use Worker Health Charts to access worker safety and health trends and identify emerging issues.

For example:

Dr. Jane Smith, an epidemiologist in Georgia, is interested in work-related lead exposure. She uses Worker Health Charts to look at the trend of work-related lead poisoning cases among adults from 2002-2018. She sees that lead poisoning cases declined from 2005 to 2009, but have slowly increased since 2010, with a large jump in 2018. She is concerned about this shift in pattern and contacts the local health department to explore why lead poisoning cases have been increasing.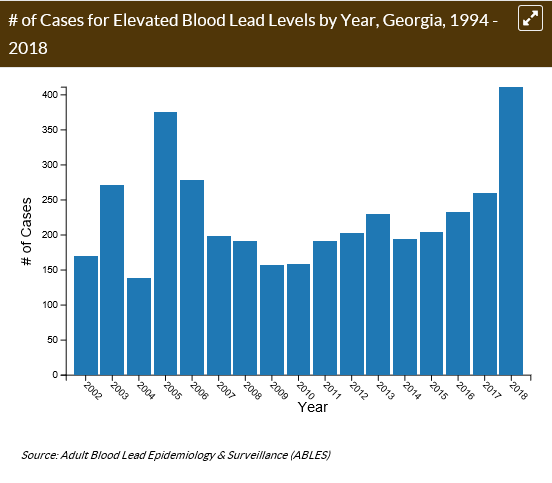 Employers and Workers
Employers and workers might use the Worker Health Charts to gain insight on how the rate of injuries compares between their personal worksite and others in their industry. For example:
Jim manages a manufacturing plant that makes office furniture using plywood and other engineered wood products. He wants to compare the rate of severe injuries in his worksite to injuries occurring at other office furniture manufacturing plants. Using Worker Health Charts, he finds the most recent Bureau of Labor Statistics (BLS) data show injuries to the trunk, including the chest, abdomen, etc., were most common among workers in wood office furniture manufacturing. In looking through his injury logs, Jim notices most of his employee injuries occur to the lower extremities, such as the legs, knees, ankles and feet, not the upper extremities like the BLS data indicate. Jim begins to feel increasing concern. He contacts an occupational safety and health consultant to help him determine why his plant is experiencing high rates of lower extremities injuries, and how his company could reduce these injuries.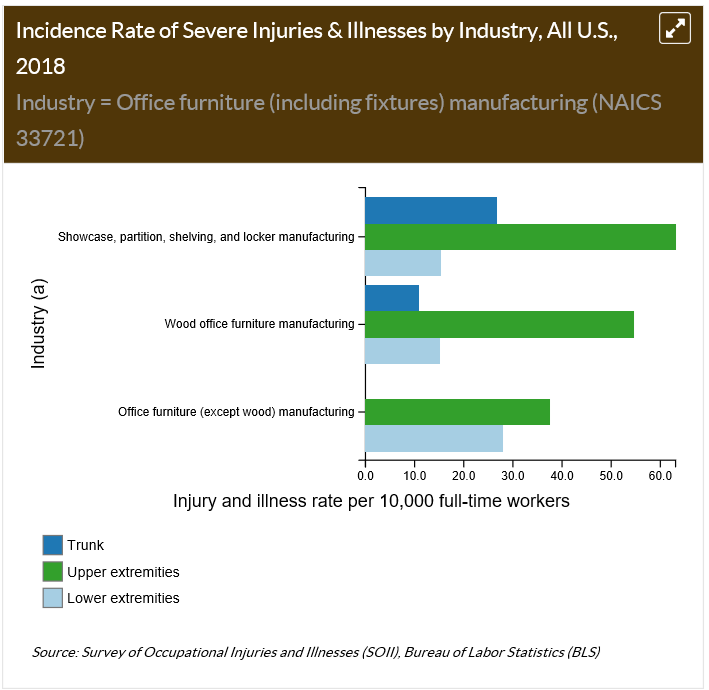 General Public
Whether you are job hunting, choosing a major for college, or working on a research project, Worker Health Charts can provide useful information about jobs and health in America. For example:
Jennifer is a high school senior taking a health education class. Her teacher wants each student to create a health campaign on a topic they are interested in. Jennifer has always been interested in public health, particularly workers' health. She decides to create posters to warn workers of the dangers of second-hand smoke exposure in the workplace. She uses Worker Health Charts to gather information to help her figure out what jobs have the highest level of second-hand smoke. Charting second-hand smoke data from the National Health Interview Survey (NHIS), she learns that second-hand smoke seems to be highest among:
construction workers
protective services (e.g. police officers)
transportation and material movers (e.g. truck drivers)
She also finds that second-hand smoke is most common among workers ages 18-29 years old. Because her brother works in construction, she decides to create an ad campaign that focuses on young construction workers to reduce smoking at the worksite.